Luciani Biolaghi
---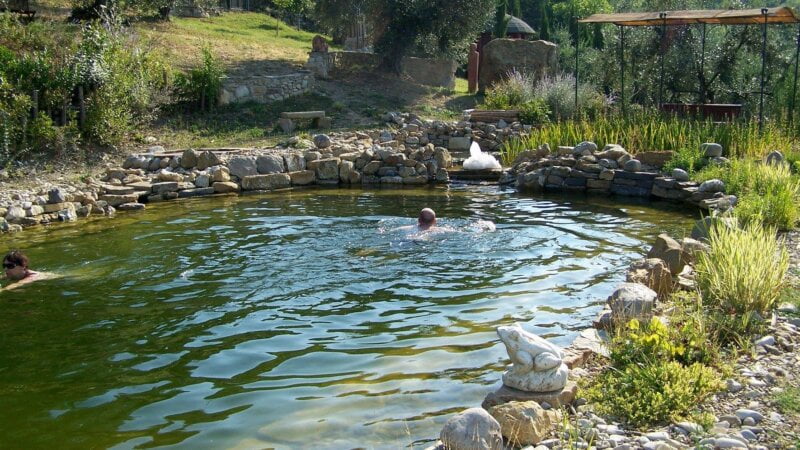 Vera Luciani has been designing and building bio-lakes, bio-pools and gardens for more than twenty years in close contact with nature, where water and plants together achieve perfect harmony with the surrounding landscape. Functionality is combined with the aesthetic aspect and respect for the environment. The space thus becomes a welcoming theater of daily life where you can enjoy nature in all its forms.
Owner since 2003 of the homonymous company specializing in the design and construction of gardens and bio-lakes, among the first in Italy to successfully propose the inclusion of natural pools, bio-lakes and salt pools in private parks and gardens. Expert in bioengineering for green applications, in the knowledge of aquatic plants and their maintenance.
The bio-lake is a natural swimming pool, a bathing and eco-sustainable body of water. The quality of bathing is guaranteed exclusively by biological and mechanical treatment, through phytodepuration and the use of specific techniques.
What distinguishes it from traditional pools is therefore the total absence of chemicals for water purification, which is clean and pleasant on the skin thanks to the action of plants and a specially designed technical system. The bio-lake is a living pool, which does not require emptying or winter coverings.
Vera Luciani designs her gardens as unique places, designed to pause, reflect and enrich the soul. It is four hands with the customer that Vera Luciani transforms and designs spaces following the rhythms of the seasons, seeking harmony in the composition of shapes, essences, design, to immerse herself in a scenario that takes on the value of a unique and lived experience. fulfilling.
The garden as a starting point for a quality of living that can affect health and well-being, understood as a shared balance between man and the environment. Resilient and sustainable habitat, capable of integrating organically with the context, in visual relationship with the rest of the landscape.
---
---